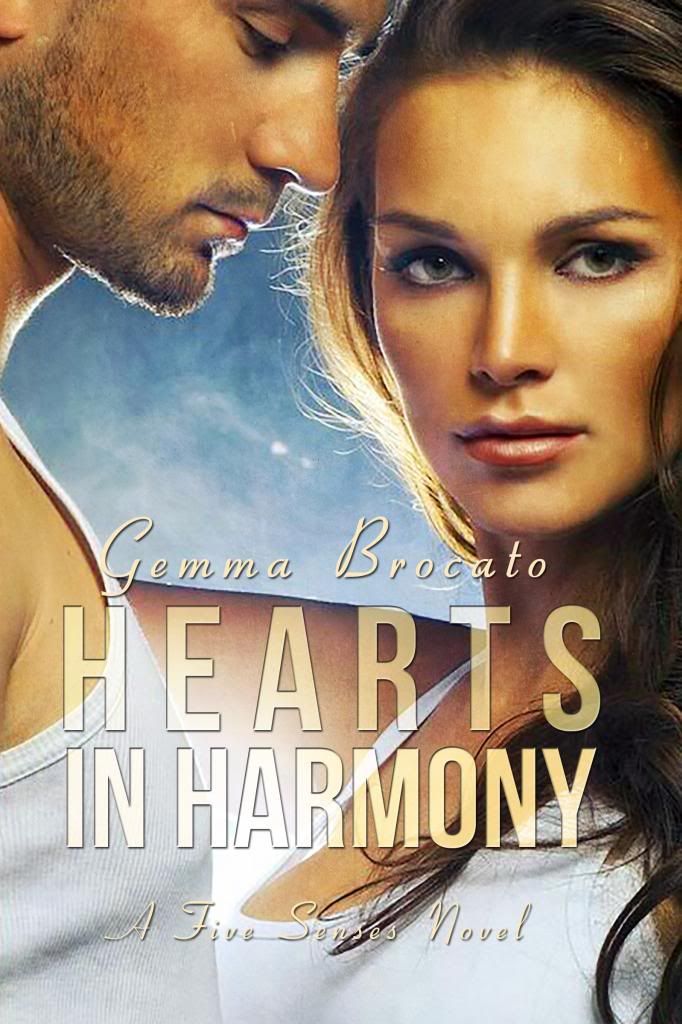 Title: Hearts In Harmony (A Five Senses Novel Book #2)
Author: Gemma Brocato
Genre: Contemporary Romance
Publish Date: May 5, 2014
Publisher: Lyrical an imprint of Kensington
~Synopsis~
Pippa Sanders' life is filled with songs of leaving, longing and loneliness. Since the death of her husband, her children have been her world. She'll do anything to protect them, including encasing her heart in ice until they're college age. She's made a practice of shying away from any relationship that could break her heart when it ends. And it's worked so far.
Clay Mathers has made a temporary move to Granite Pointe, Massachusetts to help with his mother's Christmas tree farm while she recovers from a stroke. Although his long-range plans don't include staying in the small town, a little female companionship during his short residency would be welcome. While on duty as sentry against protestors at a military funeral, he finds Pippa visiting her husband's grave, and begins a campaign to make her into a friend–with benefits.
What starts as a simple affair evolves to something more, something that changes the soundtracks of both their lives…the beating of two hearts in harmony. CONTENT WARNING: Contains strong language, hot sex and a spicy hero.
Purchase Links
About the Author
Gemma's favorite desk accessories for many years were a circular wooden token, better known as a 'round tuit,' and a slip of paper from a fortune cookie proclaiming her a lover of words; some day she'd write a book. All it took was a transfer to the United Kingdom, the lovely English springtime, and a huge dose of homesickness to write her first novel. Once it was completed and sent off with a kiss, even the rejections addressed to 'Dear Author' were gratifying. After returning to America, she spent a number of years as a copywriter, dedicating her skills to making insurance and the agents who sell them sound sexy. Eventually, her full-time job as a writer interfered with her desire to be a writer full-time and she left the world of financial products behind to pursue an avocation as a romance author. Her gamble paid off when she was a 2012 Finalist in the prestigious Golden Pen contest for Romantic Suspense and she received contracts for her first and second book.
Ten things you have in your purse/bag/wallet now
Thanks so much for having me over today. I'm excited to be here and sharing my latest release, Hearts In Harmony with you.
I loved this question - Name ten things I have in my purse. My friends accuse me of carrying a mommy bag (my kids are grown, so there isn't a reason for some of the things I still carry), but they're always grateful when I have something they need.

Here's my list:
1) My name badge and a huge set of keys from my part-time job. The key ring adds at least a pound to the overall weight. I like my job though, because it gets me out of the writing cave and interacting with humans, instead of the characters in my head.
2)

A small compact mirror I received as a gift with purchase from Lady Footlocker. It's great for when I'm trying to capture expressions on the page (but I don't recommend trying it in public. People tend to stare). I've had it for at least fifteen years and can't believe I haven't cracked or chipped it yet. Better knock wood, right?
3)

A 7" x 5" notebook (did I mention I carry a huge bag?) for whenever an idea strikes, or I'm at a meeting and need paper. There is no organization for what goes where in the book. The first page I get to that is blank gets the ink. My husband thinks it's handy too, whenever he needs to make a list.
4)

My clutch wallet. It's super cute, holds tons of credit cards and has two side pockets Cash on one side, receipts on the other. They should balance each, right?
4) Evo Sweet Mint Lip Balm. I'm forever chewing on my lips when I'm working out sticky plot points, reading and even watching TV. If I'm ever stranded on a desert island, this is the one thing I'd want to have with me.
5)

Sunglasses. I have light colored eyes and can't tolerate glare very well. I don't leave home without them. Yeah- that's me behind those Foster Grants.
6)

I have a special key chain I use to collect all the small plastic key fobs I get for loyalty programs with grocery stores, Panera, the hardware store, the movie theater, etc. I don't want all those cards hanging off the ring with my car and house keys, so this was a perfect solution. I received a complimentary key chain when I went to see the Dead Sea Scrolls exhibit at a local museum. It's perfect.
7)

A small zipper case, about the size of my palm that contains some very important things. Fingernail file, super glue, dental floss and a small square of self-adhesive Velcro. It used to be a bigger square, but someone borrowed a bit. I'm like a Boy Scout - always prepared.
8)

A friend gave me a decorative pillbox as a birthday gift a few years ago. I keep Pepcid, Benadryl, Advil and Aleve in it. I can't get over how many times it has come in handy. My friends know I have it, and frequently as to "borrow" something from it.
9)

Band-aid Friction Block. Never heard of it? This goes with me wherever I go. It's a balm you rub on your toes to keep from getting blisters when wearing new shoes, or going without socks. This stuff is like waxy gold and absolutely vital now that we're finally into sandal season. I haven't suffered from blistered toes since I discovered it in the bandaid aisle at Walgreens.
10) Fortune Cookie fortunes. I save the best fortunes I get. In fact, one I received a lot of years ago read You are a lover of words. Someday you'll write a book lived in my wallet for a long time, until my first book was published. Then I took it out, framed it and have it on display right next to a copy of a book with my name on it.
So now I'm curious - what's in your wallet?
Author's Social Media
Giveaway
Be sure to enter my Rafflecopter drawing for a chance to win the grand prize pack worth $100. Each item in the pack has some significance to the story. I'll be drawing one random winner on May 31. Good Luck.